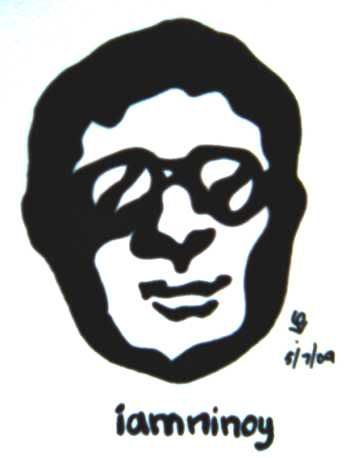 iamninoy 100 Initiative Rules and Regulations
The iamninoy 100 Initiative aims to find talented Filipinos to join in the ranks of some of the known visual artists of our time.
1.

The Initiative is open to all Filipino artists and young talents. There is no age limit and professionals and students are welcome to join.
2.

They should be able to envision and execute the theme

"What does it mean to be a Ninoy?"
3.

The work submitted should follow the guidelines below:
a. The size of the artwork should be 11 x 17 inches.
b. The art should be executed in black and white and the use of the following media is allowed: pencil, charcoal, pen and ink, water color, paint. acrylic paint, and oil. Digital media such as but not limited to: Adobe Photoshop, Illustrator, Corel Painter programs are allowed photomanipulation is prohibited.
c. The artwork submitted should be the original artwork. Photocopies and facsimiles of entries will not be accepted. For digital painted works,an 11 x 17 inch printout is required. Submissions by email or any optical media (cd, diskettes) is not allowed.
d. The entries can be signed by the artists.
4.

On a separate sheet, please indicate the following information: complete name, address, telephone number (landline and mobile) and email address.
5.

Deadline of submissions is on

June 15, 2009.

Entries can be submitted at Druids Keep, Comic Odyssey, Planet X branches. Other drop off points will be announced soon.
6.

The chosen artists will be notified either by email, registered mail or by telephone. Text messaging will not be used.
7.

The announcement of the chosen artists will be featured in the MCC Website no later than June 30, 2009.
8.

The chosen artworks will be published in the iamninoy 100 Initiative benefit book and the artists will have the option to sell their artwork through an auction. The artwook to be auctioned will be displayed in The Crucible Art Gallery in Megamall from July 28 to August 10, 2009
9.

Launching of the iamninoy 100 Initiative benefit book will be held on August 8, 2009 at the Manila Comic-Con, Megatrade Halls 1 and 2.
10.

The proceeds from the sales of the iamninoy 100 Initiative benefit book will go to a charitable institution chosen by the organizers.
11.

For inquiries and other concerns, please email initiative@manilacomiccon.com.