Ohoy, PUPUNTAHAN KO TALAGA ITO!!!!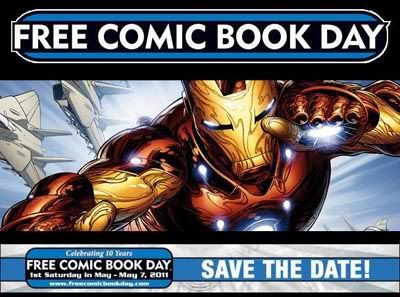 Free Comic Book Day is SATURDAY, MAY 7, 2011 at our ROBINSONS GALLERIA branch. This year is the 10th Anniversary of Free Comic Book Day and we promise...this will be the biggest one yet!

Aside from the yearly FCBD sponsored comics, we will also be giving away thousands and thousands of comics from our own backstock going back 15-20 years.

We will also be holding our annual FCBD sale...OUR BIGGEST SALE OF THE YEAR!

Save up to 50% OFF all graphic novels, hardcovers, action figures, manga, and more...PLUS all back issues in our bins will be only P50 each!!!

Our confirmed guest artists for this year(so far) are:

CARLO PAGULAYAN - Agents of Atlas, Hulk, Emma Frost, Elektra
ED TADEO - Sigil, X-men, Wolverine, Iron Man
GERRY ALANGUILAN - Elmer, Ultimate Avengers, Wolverine, X-Force
HARVEY TOLIBAO - Psylocke, Silver Surfer, Heroes for Hire
JAY ANACLETO - Marvels Eye of the Camera, Aria, Spawn, Thor
LEINIL YU - Secret Invasion, Ultimate Avengers, X-men, Wolverine, Superman
LUI ANTONIO - Terminator, Savage Tales, Warlord of Mars
MICO SUAYAN - Moon Knight, X-men, Thor, Werewolf By Night
PHILIP TAN - Green Lantern, Outsiders, Spawn, X-men
STEPHEN SEGOVIA - Silver Surfer, Ultimate Avengers, Wolverine

Local Guest Artists:

ARIEL ATIENZA – Class, West Side
GIO PAREDES - Kalayaan
FREELY ABRIGO - Kapitan Tog, Kulas
IAN OLYMPIA – Ambition
JON ZAMAR – Digmaang Salinlahi
JOSEL NICOLAS – Windmills: Breakdowns
LYNDON GREGORIO - Beerkada
MACOY – Taal Monster vs Evil Space Paru-paro
MEL CASIPIT – Baboy 1 & 2
NORBY ELA - Gutom
RH QUILANTANG – Goodbye Rubbit
ROMMEL ESTANISLAO – Lipad
SHERRY BAET ZAMAR - Carpool
TEPAI PASCUAL – Maktan 1521

FCBD starts at 10:30 am, artist signing is from 1-4pm. RAFFLE PRIZES GIVEN OUT THROUGHOUT THE DAY! FCBD 2011...DON'T YOU DARE MISS IT!!!

For images of the Gold and Silver FCBD sponsored comics for this year, please click on the link below.

Visit http://freecomicbookday.com/comics.asp for more information