Nakuha ko ito dito at magandang i-post din dito para sa mga naliligaw, hehehe...SALAMAT sa ARTEPINAS!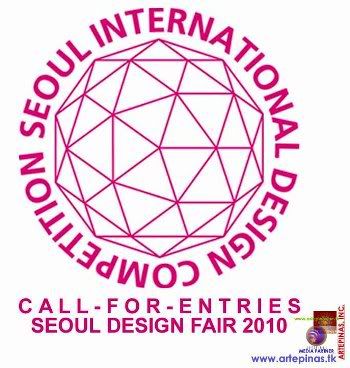 C A L L - F O R - E N T R I E S SEOUL DESIGN FAIR 2010
Together with Designboom promotes an international design competition. Participation is open to applicants from every country in the world, to professionals, students, and design-enthusiasts. Free registration required.
Seoul International Design Competition 2010 is hosted by Seoul Metropolitan Government and organized by Seoul Design Foundation in collaboration with Designboom.
01 - The subject of the international competition is design for all future technology and daily living. The motto of Seoul International Design Competition 2010 envisions the realization of an egalitarian society and human values through design proposals that are easy, convenient, and pleasant to use. Especially in the environment of a contemporary city, as well as product and space, the importance of communication is rapidly increasing (most of it is based on digital technology), and design can bring convenience, safety, equality and pleasure to citizens through establishing a new order between components constituting a city.
The 'design for all' objective is made to increase the efforts and the pursuit of design production that can be shared by all, removing emotional and physical barriers by becoming an universal communicative social solution.
02 - Categories including anything that is designed for public spaces, facilities, and visual information and outcomes and products which deal with or publicize the urban problems, or promote Seoul outwardly.
03 – Awards
The total prize money of seoul design competition 2010 amounts to USD 26,000 *** certification and prize money awarded by the mayor of Seoul Metropolitan Government and special benefits for those who are awarded with golden and silver haechi prizes (within 3,000 USD for individual/team including grants for overseas training for Korean winners and invitation to the awards ceremony in Seoul for international winners).
- golden haechi prize: one winner, USD 10,000 – certification
- silver haechi prize: three winners, USD 2,000 - certification for each
- bronze haechi prize: five winners, USD 1,000 - certification for each
- iron haechi prize: max. ten winners, USD 500 - certification for each
- honorable mention: within two hundred people, certification for each
- people's choice award: twenty winners, certification for each
The winning submissions will be exhibited during the exhibition period of Seoul Design Fair 2010 from September 17 to October 7, 2010. The award ceremony of Seoul Design Fair 2010 will take place on October 7, 2010 at Jamsil Sports Complex in Seoul Metropolitan City, Republic of South Korea. And as always designboom will publish an exhaustive results report.
***prize and prize money the award winners shall abide by the tax law of their countries. In case an award winner is of korean nationality, the tax shall be exempted according to article 18 of enactment decree of the income tax act. Any postal charges for certifications and catalogue shall be paid by the award winners.
04 – The jury will be composed of international professional designers and members of the organization. Currently under construction.
05 - Design criteria
Projects should be original and not be currently in serial production. Projects will be disqualified, if been awarded from other competitions or awards.
The designs entries may not be marked with any form of identification (name, logo...). Entries will be disqualified under these terms. it is important that you keep your design(s) confidential. Please don't send them to print or digital publications until the results of the competition are published. The jury will award designs and concepts which are innovative in terms of their formal / technological aspects as well as their social relevance. Please don't send in vague concepts, but go a step further. It's not the idea which is the art, it's more the way somebody handles the idea that makes art.
06 – Registration deadline
Application registration will be accepted until July 13th, 2010.
Deadline: 17:00 GMT
07 - RegistrationRegistration is open now, please fill in the form. Teams register with one name only- when submitting works you should add all team member's names.
register here
SEOUL DESIGN FAIR 2010
http://sdf.seoul.go.kr